6 Prayers for Peace of Mind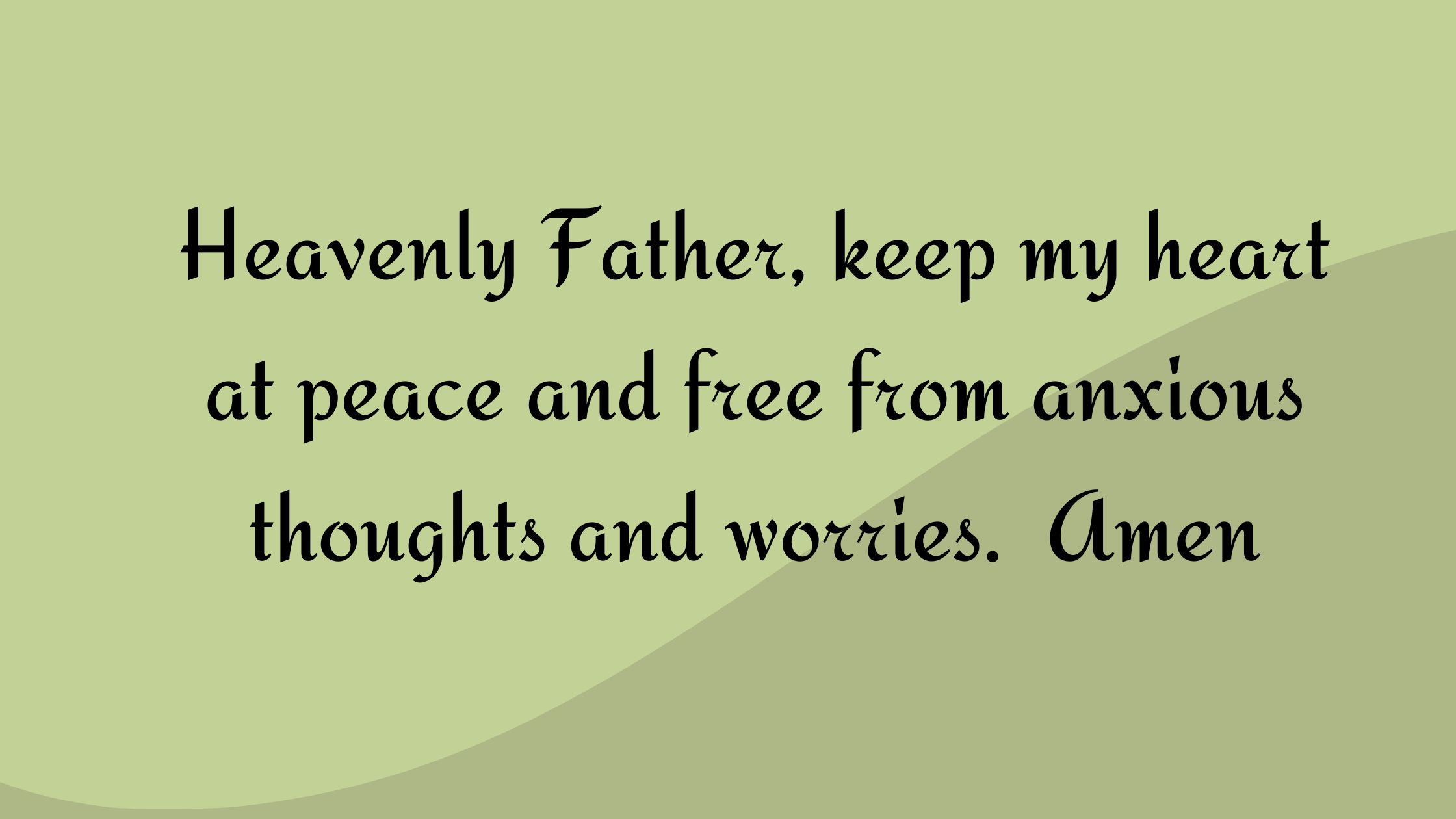 Finding peace of mind can feel like a never-ending quest. We often search for peace in all the wrong places. We try to numb our minds with busyness or distractions, but true peace can only be found in God. If you're feeling anxious, stressed, or just plain overwhelmed, turn to God for peace of mind. Below are six prayers to help you find the peace you seek in troubled times:
A Prayer for Peace of Mind
Heavenly Father, I come before You today in need of Your peace. There is so much chaos and turmoil going on in my life and in the world around me, and I find it hard to keep my focus on You. Please calm my anxious thoughts and help me to trust that You are in control. I know that Your peace surpasses all understanding, so even when my mind cannot make sense of what is happening, help me to trust that You are still good. In Jesus' name, Amen.
Prayer for Letting Go of Worries
Father, I know that I can bring my concerns and worries to You. I know that You care about what is going on in my life. But sometimes, it feels like the weight of my worries is too much to bear. So today, I am choosing to let go of them. I am choosing to give them over to You. Please help me to trust that You will take care of me and work everything out for good. In Jesus' name, Amen.
Prayer for Inner Peace and Happiness
Lord, I long for inner peace and happiness. There are times when I feel restless and anxious and times when I feel sad and alone. Help me to remember that You are in control and that Your plans for me are always good. Please, Lord, fill me with Your joy so that I may radiate Your light and love to those around me. In Jesus' name, Amen.
Prayer for Peaceful Sleep
Father Lord, my mind just won't shut off at night, and I toss and turn for hours trying to get to sleep. Please give me the gift of restful sleep so that I may be refreshed and ready to face each new day with energy and enthusiasm. Help me to release all the worries of the day into Your capable hands so that my dreams may be pleasant ones. In Jesus' name, Amen
Prayer for Calmness & Anxiety Relief
Heavenly Father, thank You that through Christ Jesus, I am redeemed from anxiety and fearfulness. Please help me to walk in the Spirit so that the fruit of self-control will be evident in my life when anxious feelings try to take over. Father, teach me how to take every thought captive so that it points back to you who has given me His perfect peace, which transcends all understanding. In Jesus' powerful name, I pray, Amen.
Prayer for Peace of Mind During Difficult Times
Lord Jesus, sometimes life is just hard. But thank You that even in the midst of trials and tribulations, I can still find peace in knowing that You are with me always. Help me to lean on You when times are tough and to trust that You will bring me through whatever challenges I am facing. Thank you that Your love never fails nor fades away- no matter what difficulties come my way, Your love remains steadfast. In Jesus' name, Amen 
Also Read: 10 Bible Verses About Anxiety to Calm Your Worries
Bible Verses for Peace of Mind
Do not be anxious about anything, but in every situation, by prayer and petition, with thanksgiving, present your requests to God. And the peace of God, which transcends all understanding, will guard your hearts and your minds in Christ Jesus. – Philippians 4:6-7
Peace I leave with you; my peace I give you. I do not give to you as the world gives. Do not let your hearts be troubled, and do not be afraid. – John 14:27
"Cast all your anxiety on him because he cares for you." – 1 Peter 5:7
Trust in the LORD with all your heart and lean not on your own understanding; in all your ways submit to him, and he will make your paths straight. – Proverbs 3:5-6
"Therefore, I tell you, do not worry about your life, what you will eat or drink, or about your body, what you will wear. Is not life more than food and the body more than clothes? Look at the birds of the air; they do not sow or reap or store away in barns, and yet your heavenly Father feeds them. Are you not much more valuable than they?" – Matthew 6:25-26"
Also Read: Prayers to God for Guidance and Direction