10 Bible Verses About Fear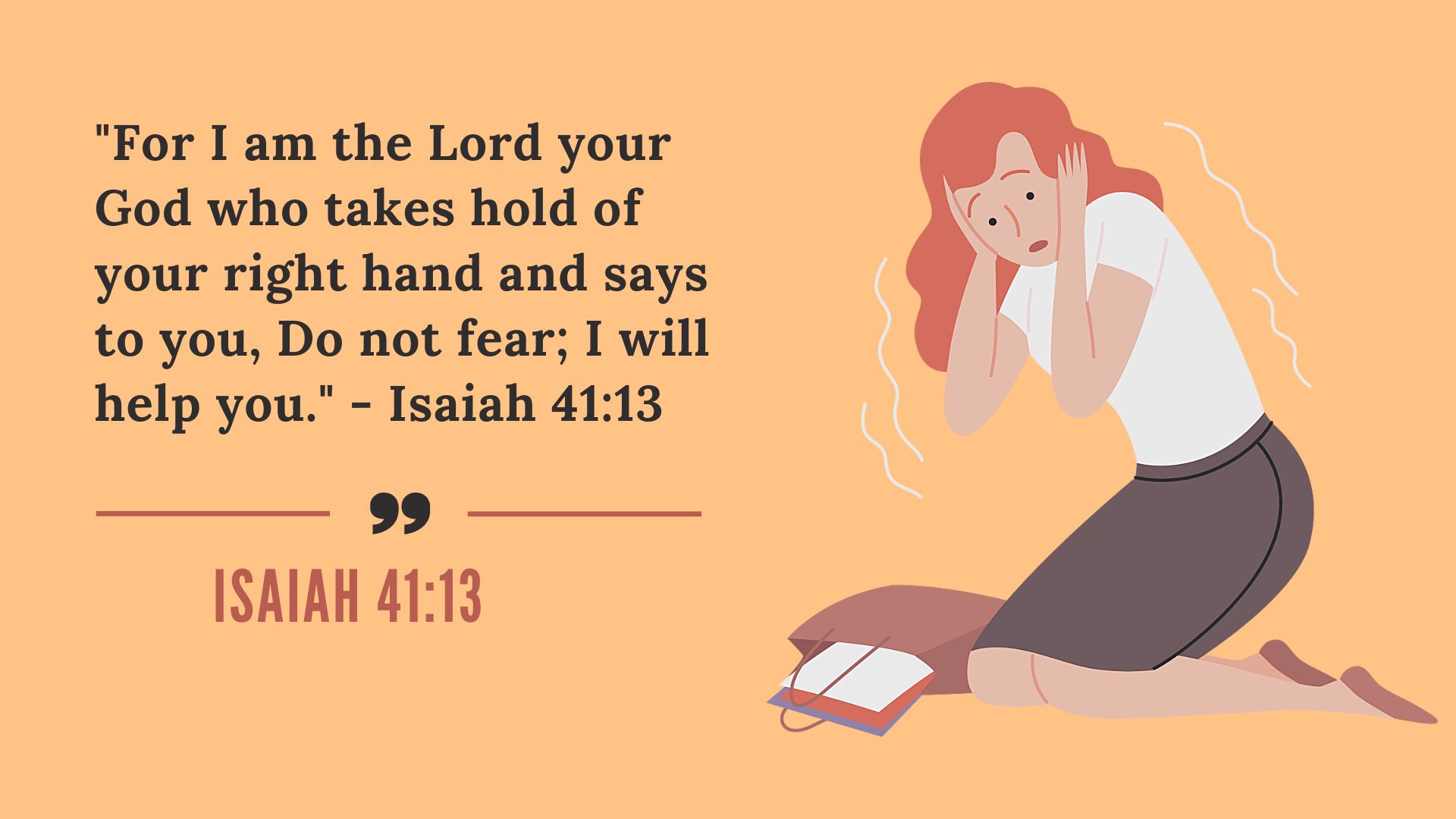 We all experience fear from time to time. It's a normal emotion that helps us stay alert and safe. But sometimes, fear can get the best of us. When that happens, it's important to remember that we are not alone. God is with us, and He has promised to help us overcome our fears. The Bible has a lot to say about fear.
What Does Bible Say About Fear?
The Bible has a lot to say about fear. In fact, "fear not" or "do not be afraid" is repeated over and over again in Scripture—more than 365 times, to be exact. God is well aware of our human propensity for fear, and He wants us to know that we don't need to be afraid when we are following Him. Here are some of the things the Bible has to say about fear.
Fear not, for I am with you; be not dismayed, for I am your God; I will strengthen you, I will help you, I will uphold you with my righteous right hand. – Isaiah 41:10
This verse from Isaiah is a good reminder that we don't have to be afraid because God is with us always. He will never leave us or forsake us, and He will help us through whatever challenges we may face.
Even though I walk through the darkest valley, I will fear no evil, for You are with me; Your rod and Your staff, they comfort me. – Psalm 23:4
Psalm 23 reassures us that even when life feels dark and scary, we can trust that God is with us and He will comfort us. We can take comfort in His presence even in the midst of difficult times.
Be strong and courageous. Do not be frightened, and do not be dismayed, for the Lord your God is with you wherever you go. – Joshua 1:9
No matter what lies ahead of us in life—whether it's a new school year, a new job, or a new relationship—we can face it courageously because God is with us every step of the way. So let's not be afraid to step out in faith!
ALSO READ: Bible Verses about Trusting God, Even in Difficult Times
Bible Verses About Fear
Here are 10 Bible verses about fear that can help you overcome whatever you may be feeling afraid of.
1. Philippians 4:6
"Do not be anxious about anything, but in every situation, by prayer and petition, with thanksgiving, present your requests to God."
2. Psalm 27:1
"The Lord is my light and my salvation—whom shall I fear? The Lord is the stronghold of my life—of whom shall I be afraid?"
3. Psalm 56:3-4
"When I am afraid, I put my trust in You. In God, whose word I praise—in God, I trust and am not afraid. What can mere mortals do to me?"
4. 2 Timothy 1:7
"For God has not given us a spirit of fear, but of power and of love and of a sound mind."
5. 1 Corinthians 16:13-14
"Be on your guard; stand firm in the faith; be courageous; be strong. Do everything in love."
6. Isaiah 43:1
"But now, this is what the Lord says— he who created you, Jacob, he who formed you, Israel: 'Fear not, for I have redeemed you; I have summoned you by name; you are mine."
7. Isaiah 43:2
"When you pass through the waters, I will be with you; and when you pass through the rivers, they will not sweep over you. When you walk through the fire, you will not be burned; the flames will not set you ablaze."
8. Isaiah 41:13
"For I am the Lord your God who takes hold of your right hand and says to you, Do not fear; I will help you."
9. Isaiah 41:10
"So do not fear, for I am with you; do not be dismayed, for I am your God. I will strengthen and help you; I will uphold you with my righteous right hand." –
10. Deuteronomy 31:8
"The Lord himself goes before you and will be with you; he will never leave nor forsake YOU– do not fear or be dismayed."
Also Read: 6 Prayers for Peace of Mind
Conclusion
These are just a few of the many verses in the Bible that talk about fear. Whenever you are feeling afraid or anxious, remember that God is always with you, and He wants to help you overcome whatever it is that is making you feel afraid. So don't be discouraged—keep reading His Word, and He will give you the strength and courage that you need to face anything that comes your way!
ALSO READ: Bible Verses to Encourage You and Strengthen Your Faith