Are you looking for Bible verses about love? God's love is perfect.
It's not based on our actions or feelings. His love is constant, no matter what we do or how we feel.
When we understand God's perfect love for us, it changes everything.
It gives us hope when we are struggling and encouragement when we are down. It gives us the strength to keep going when things are tough.
What is Love, According to the Bible?
Put simply by 1 Corinthians 13:4-8:
Love is patient, love is kind. It does not envy, it does not boast, it is not proud.
It does not dishonor others, it is not self-seeking, it is not easily angered, it keeps no record of wrongs.
Love does not delight in evil but rejoices with the truth.
It always protects, always trusts, always hope, always perseveres.
Love never fails.
When we love others, we show them God's love. And when we receive love from others, we see a glimpse of God's love for us.
Bible verses about love remind us that God is the perfect example of how to love. He calls us to love Him with all our heart, soul, mind, and strength.
And He calls us to love others as He has loved us. This is the greatest commandment (Luke 10:27).
What Does Bible Say About Love?
The Bible has a lot to say about love.
In the Old Testament, love is primarily discussed in terms of its connection to God.
For instance, Leviticus 19:18 says, "You shall not take vengeance or bear a grudge against the sons of your own people, but you shall love your neighbor as yourself: I am the LORD."
This verse makes it clear that love must start with self-love before it can be extended to others.
However, it also goes beyond simply tolerating others and calls for active care and concern for their well-being.
In the New Testament, love is further explored in relation to Christ's Commandment to love one another.
John 15:12 says, "This is my commandment, that you love one another as I have loved you."
Christ's unconditional and sacrificial love for humanity provides the ultimate example of what it means to truly love others.
As His followers, we are called to emulate His example by showing love even to those who are difficult to like.
Ultimately, the Bible's teachings on love highlight its importance in both our personal relationships and our relationship with God.
Bible Verses about Love
Here are some of the most well-known Bible verses about love:
1. 1 Corinthians 13:7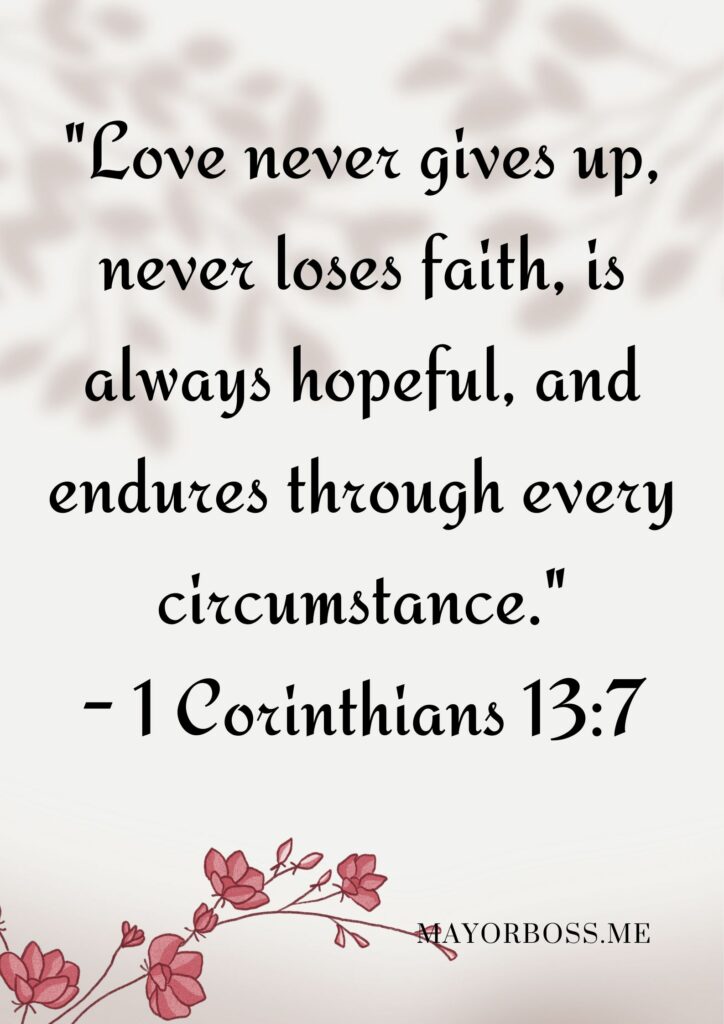 "Love never gives up, never loses faith, is always hopeful, and endures through every circumstance."
2. John 3:16
"For God loved the world in this way: He gave his one and only Son, so that everyone who believes in him will not perish but have eternal life."
3. 1 John 4:8
"Anyone who does not love does not know God, because God is love."
4. Romans 5:8
"But God demonstrates his own love for us in this: While we were still sinners, Christ died for us."
5. 1 Corinthians 16:14
"Do everything in love."
6. Galatians 5:22-23
"But the fruit of the Spirit is love, joy, peace, forbearance, kindness, goodness, faithfulness, gentleness, and self-control. Against such things, there is no law."
7. Ephesians 4:2
"Be completely humble and gentle; be patient, bearing with one another in love."
8. 1 Peter 4:8
"Above all, love each other deeply, because love covers over a multitude of sins."
9. Matthew 22:37-39
"Jesus replied, "'You must love the Lord your God with all your heart, all your soul, and all your mind.' This is the first and greatest commandment. A second is equally important: 'Love your neighbor as yourself.' The entire law and all the demands of the prophets are based on these two commandments.""
10. 1 John 4:19
"We love each other because he loved us first."
11. Colossians 3:14
"And above all these put on love, which binds everything together in perfect harmony."
12. 1 John 3:1
"See what great love the Father has lavished on us, that we should be called children of God! And that is what we are."
13. Matthew 5:44
"But I say to you, Love your enemies and pray for those who persecute you,"
14. John 15:13
"Greater love has no one than this, that someone lay down his life for his friends."
15. John 13:34-35
"A new command I give you: Love one another. As I have loved you, so you must love one another. By this everyone will know that you are my disciples, if you love one another."
16. Philippians 2:3-4
"Do nothing out of selfish ambition or vain conceit. Rather, in humility value others above yourselves, not looking to your own interests but each of you to the interests of others."
17. Mark 12:31
"The second is this: 'Love your neighbor as yourself.' There is no commandment greater than these."
18. Romans 13:10
"Love does no harm to a neighbor. Therefore love is the fulfillment of the law."
19. 1 John 4:7-8
"Dear friends, let us love one another, for love comes from God. Everyone who loves has been born of God and knows God. Whoever does not love does not know God, God is love."
20. Zephaniah 3:17
"The Lord your God is with you, the Mighty Warrior who saves. He will take great delight in you; in his love he will no longer rebuke you, but will rejoice over you with singing."
19. 1 John 4:16
"And so we know and rely on the love God has for us. God is love. Whoever lives in love lives in God, and God in them."
20. Jeremiah 31:3
"The Lord appeared to us in the past, saying: "I have loved you with an everlasting love; I have drawn you with unfailing kindness."
21. 1 Corinthians 13:13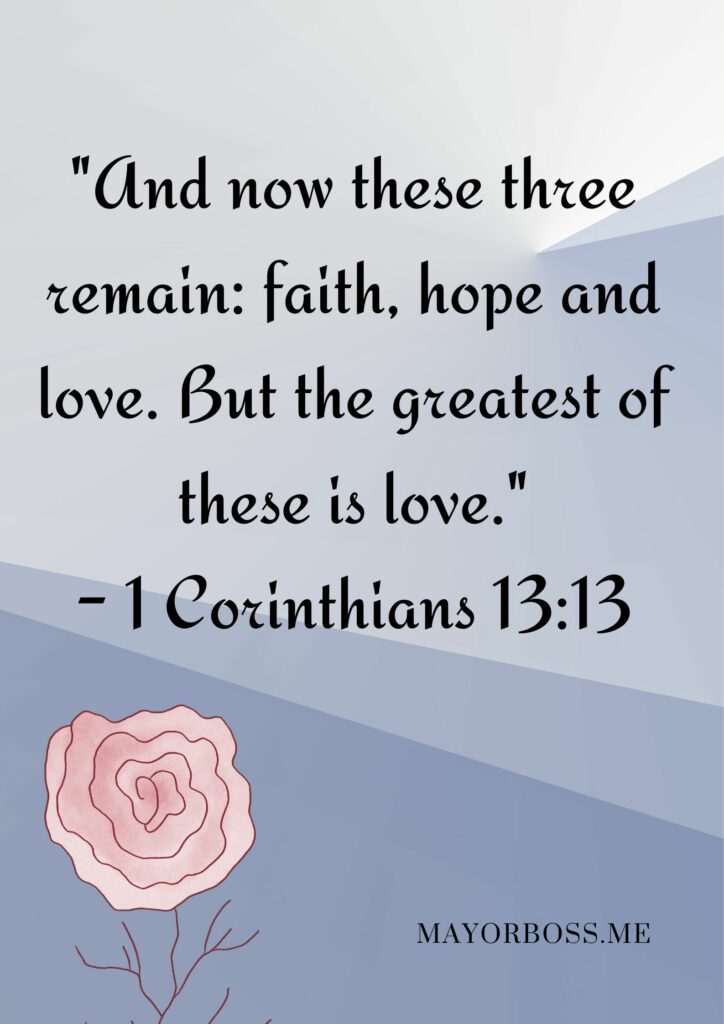 "And now these three remain: faith, hope and love. But the greatest of these is love."
22. Proverbs 10:12
"Hatred stirs up conflict, but love covers over all wrongs."
23. Ephesians 5:25
"Husbands, love your wives, just as Christ loved the church and gave himself up for her"
25. John 15:9-10
"As the Father has loved me, so have I loved you. Now remain in my love. If you keep my commands, you will remain in my love, just as I have kept my Father's commands and remain in his love."
26. 1 John 3:16-17
"This is how we know what love is: Jesus Christ laid down his life for us. And we ought to lay down our lives for our brothers and sisters. If anyone has material possessions and sees a brother or sister in need but has no pity on them, how can the love of God be in that person?"
27. 1 John 4:11-12
"Dear friends, since God so loved us, we also ought to love one another. No one has ever seen God; but if we love one another, God lives in us and his love is made complete in us'."
28. 1 John 4:21
"And he has given us this command: Anyone who loves God must also love their brother and sister."
29. James 2:8
"If you really keep the royal law found in Scripture, "Love your neighbor as yourself," you are doing right."
30. Romans 12:9-10
"Love must be sincere. Hate what is evil; cling to what is good. Be devoted to one another in love. Honor one another above yourselves."
Final thoughts on Bible Verses about Love
As we can see from the above verses, love is a very important part of the Christian faith.
It is something that we are called to do, and it is something that should be evident in our lives.
Love is not just a feeling, but it is an action.
It is something that we do for others, and it is something that we should do unselfishly.
When we love others, we are showing them the love of God. And when we show the love of God to others, we are fulfilling the law.
Read more bible verses: