Bible Verses about Nothing is Impossible With God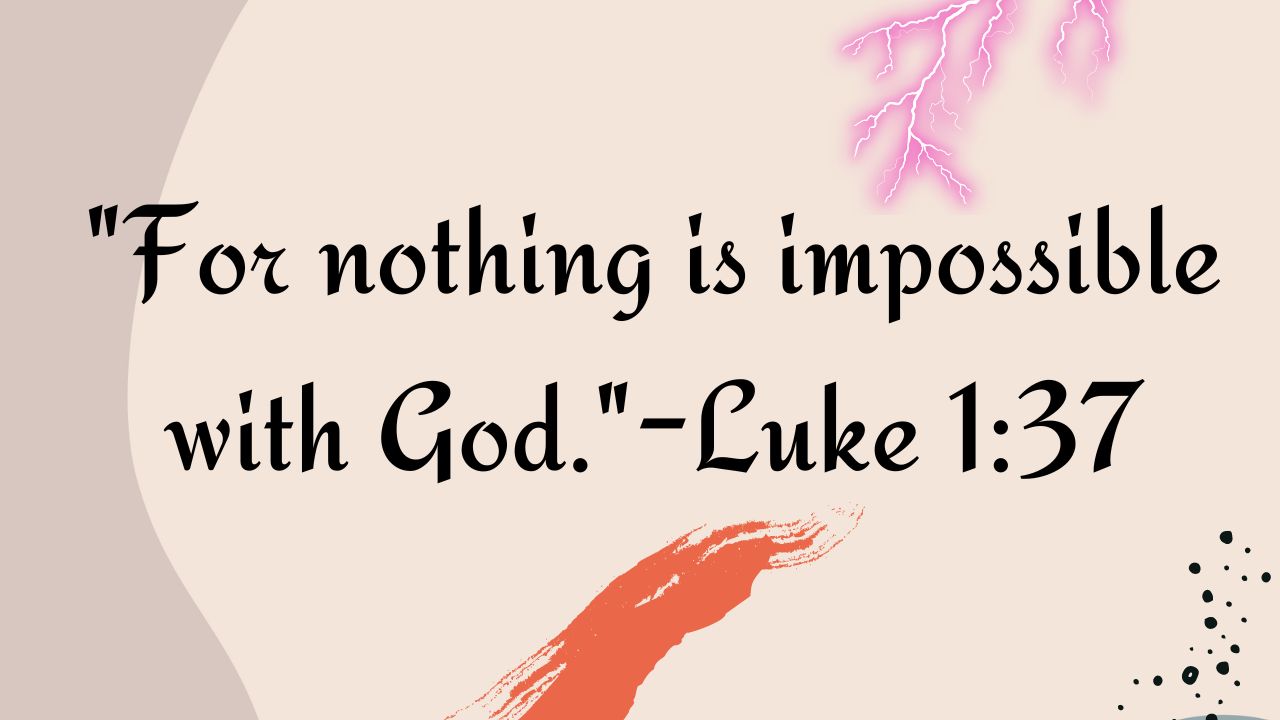 Is anything impossible with God?
Certainly not! With God, all things are possible.
When we face difficulties in life, it is easy to feel like giving up.
We may feel like the situation is hopeless and that there is no way out.
However, the Bible tells us that nothing is impossible with God.
In Jeremiah 32:17, we are reminded that "God made the heavens and the earth, the sea, and everything in them."
If God can create the universe, then surely he can help us with our difficulties.
Philippians 4:13 says that "I can do all things through Christ who strengthens me."
This verse assures us that we are not alone in our struggles.
When we trust in God, he will give us the strength to overcome any obstacle.
But you need to believe with all your heart that God can do anything.
Mark 9:23 tells us that "everything is possible for one who believes."
The question is, do you believe that God can help you?
Do you believe that he has the power to overcome any obstacle?
The simple truth is that faith can move mountains.
Matthew 17:20 says, "I tell you the truth, if you have faith as small as a mustard seed, you can say to this mountain, 'Move from here to there, and it will move. Nothing will be impossible for you.'"
All you need to do is have faith and trust in God.
When you do, he will work miracles in your life.
What Bible verse says nothing is impossible with God?
Here are some of the most popular and well-loved Bible verses about how nothing is impossible for our Almighty God.
1. Luke 1:37
"For nothing is impossible with God."
2. Jeremiah 32:17
"Ah, Sovereign LORD, you have made the heavens and the earth by your great power and outstretched arm. Nothing is too hard for you."
3. Matthew 19:26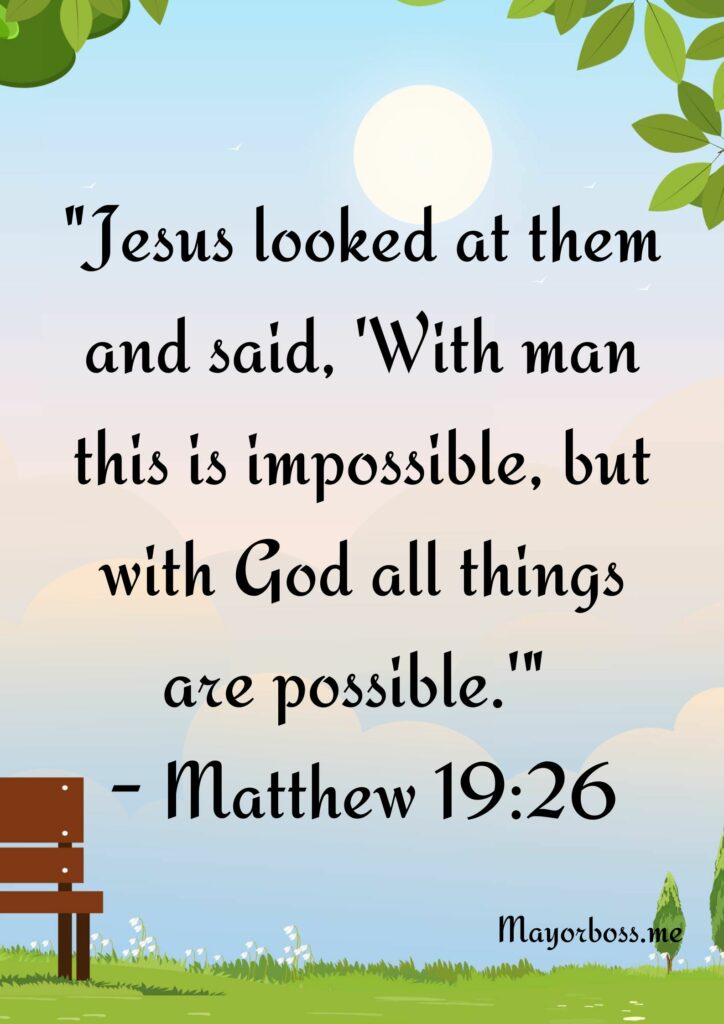 "Jesus looked at them and said, 'With man this is impossible, but with God all things are possible.'"
4. Genesis 18:14
"Is anything too hard for the LORD? I will return to you at the appointed time next year, and Sarah will have a son.'"
5. Mark 10:27
"Jesus looked at them and said, 'With man it is impossible, but not with God. For all things are possible with God.'"
6. Hebrews 6:18
"So God has given both his promise and his oath. These two things are unchangeable because it is impossible for God to lie. Therefore, we who have fled to him for refuge can take new courage, for he has renewed our hope like a strong foundation."
15. Exodus 14:14
7. Romans 4:21
"And being fully persuaded that what he had promised he was able to perform."
8. Luke 18:27
"But He said, 'The things which are impossible with men are possible with God.'"
9. Jeremiah 32:27
"'I am the LORD, the God of all mankind. Is anything too hard for me?'"
10. Psalm 147:5
"Great is our Lord and mighty in power; his understanding has no limit."
11. 1 Corinthians 10:13
"No temptation has overtaken you except what is common to mankind. And God is faithful; he will not let you be tempted beyond what you can bear. But when you are tempted, he will also provide a way out so that you can endure it."
12. Deuteronomy 31:6
"Be strong and courageous. Do not be afraid or terrified because of them, for the LORD your God goes with you; he will never leave you nor forsake you."
13. 1 John 4:4
"You, dear children, are from God and have overcome them, because the one who is in you is greater than the one who is in the world."
14. James 1:13
"When tempted, no one should say, "God is tempting me." For God cannot be tempted by evil, nor does he tempt anyone;"
15. Luke 1:45
"Blessed is she who has believed that the Lord would fulfill his promises to her!"
16. Isaiah 41:10
"So do not fear, for I am with you; do not be dismayed, for I am your God. I will strengthen you and help you; I will uphold you with my righteous right hand."
17. Job 42:2
"I know that you can do all things; no purpose of yours can be thwarted."
18. Isaiah 46:10
"I make known the end from the beginning, from ancient times, what is still to come. I say: My purpose will stand, and I will fulfill my intention."
19. Psalm 145:13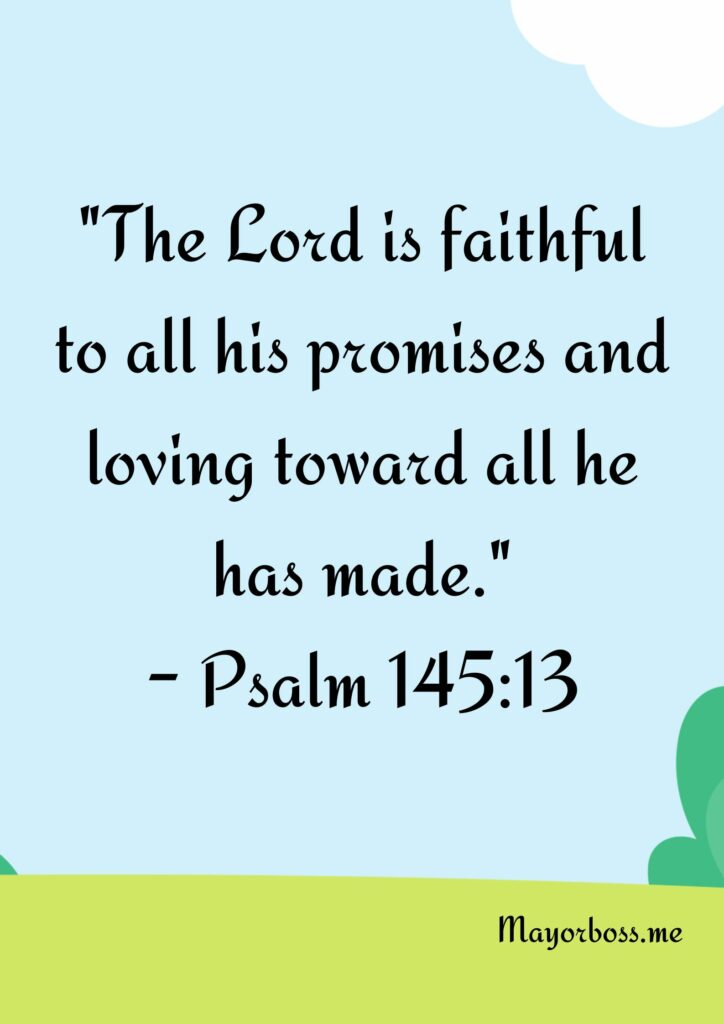 "The Lord is faithful to all his promises and loving toward all he has made."
20. John 3:16-17
"For God so loved the world that he gave his one and only Son, that whoever believes in him shall not perish but have eternal life. For God did not send his Son into the world to condemn the world, but in order that the world might be saved through him."
21. Philippians 4:13
"I can do all this through him who gives me strength."
22. Psalm 34:19
"The righteous cry out, and the LORD hears them; he delivers them from all their troubles."
23. John 16:33
"I have told you these things so that in me you may have peace. In this world, you will have trouble. But take heart! I have overcome the world."
Final thoughts
No matter what situation you are facing in life, know that nothing is impossible for God.
With Him, all things are possible.
If you have faith and believe in Him, He will always be there to help you through anything.
So do not be afraid or discouraged because, with God by your side, nothing is impossible!
Learn more: