Bible Verses on Thankfulness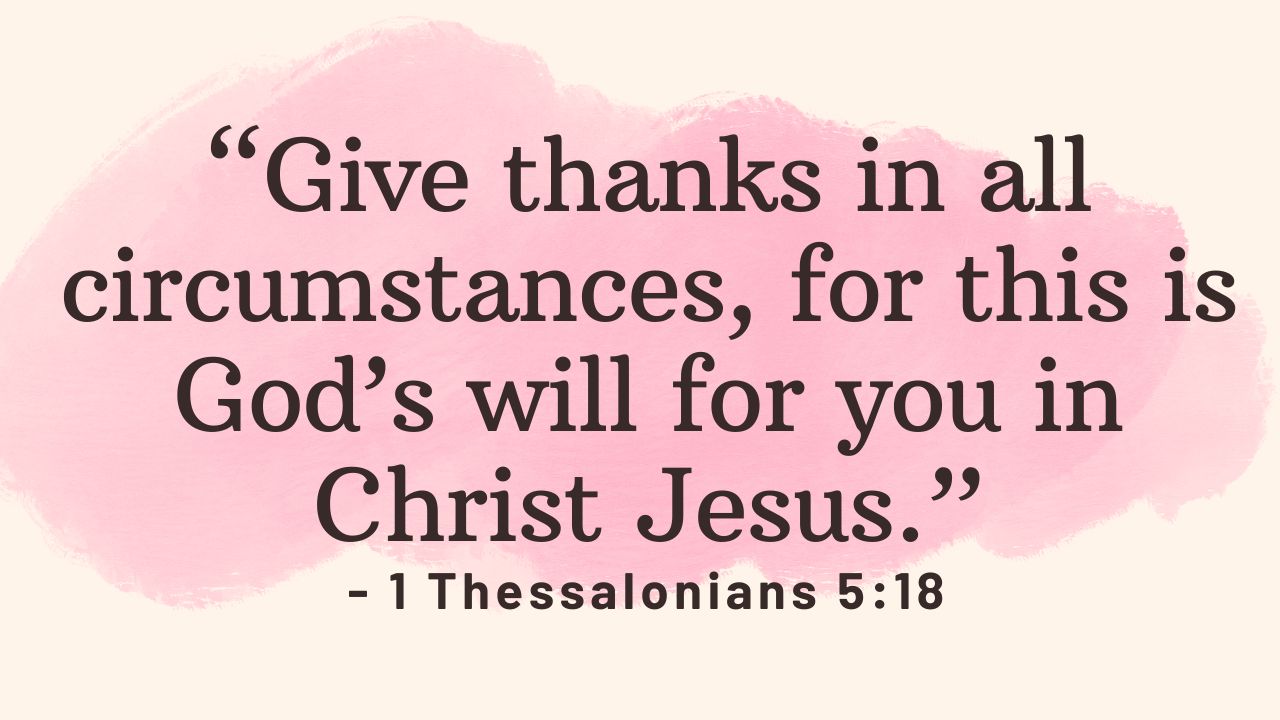 Are you looking for Bible verses about thankfulness? If so, you are in the right place.
Why should Christians be thankful?
Because God has given us so much.
He has given us life, our families, our friends, our homes, and most importantly, His Son, Jesus Christ.
We have been given the gift of salvation, and we have been blessed beyond measure.
The Bible is full of verses that tell us to give thanks to the Lord.
Here are just a few of the many verses about thankfulness that you can find in Scripture.
Bible verses for thankfulness
1. Psalm 107:1
"Give thanks to the Lord, for he is good; his love endures forever."
2. 1 Thessalonians 5:18
"Give thanks in all circumstances, for this is God's will for you in Christ Jesus."
3. Psalms 50:14-15
"Offer to God a sacrifice of thanksgiving and pay your vows to the Most High, call on me in the day of trouble; I will deliver you, and you will honor me."
4. Psalm 103:1-5
"Praise the Lord, my soul; all my inmost being, praise his holy name. Praise the Lord, my soul, and forget not all his benefits— who forgives all your sins and heals all your diseases, who redeems your life from the pit and crowns you with love and compassion, who satisfies your desires with good things so that your youth is renewed like the eagle's."
5. Psalm 100:4-5
"Enter his gates with thanksgiving and his courts with praise; give thanks to him and praise his name. For the Lord is good, and his love endures forever; his faithfulness continues through all generations."
6. 1 Chronicles 16:34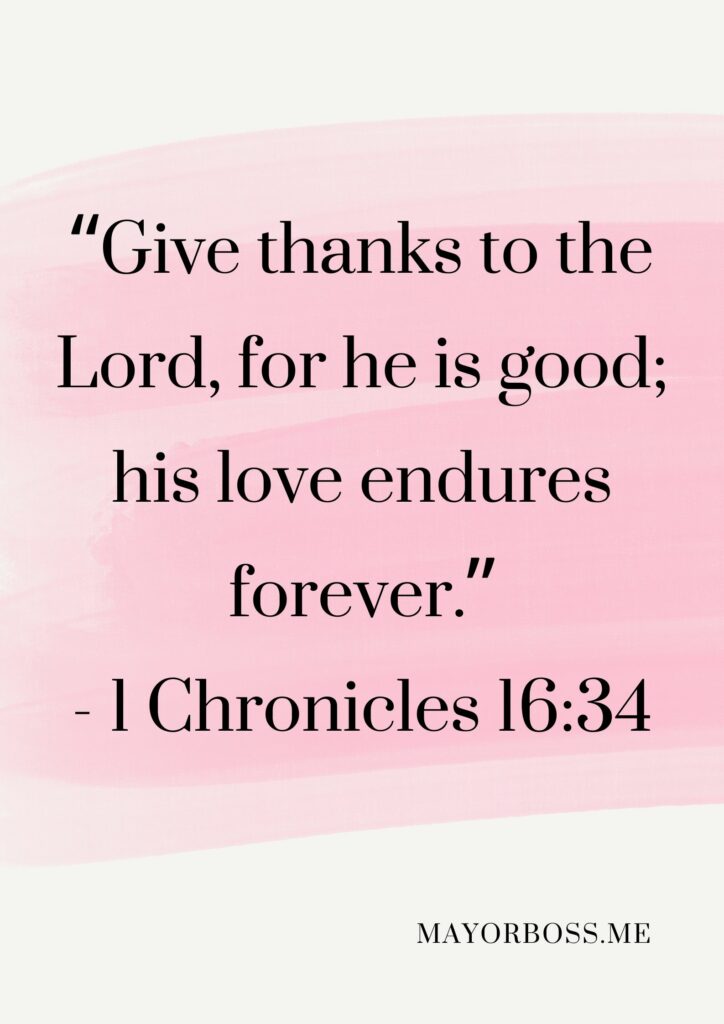 "Give thanks to the Lord, for he is good; his love endures forever."
7. 2 Chronicles 5:13
"The trumpeters and singers joined in unison, as with one voice, to give praise and thanks to the Lord. Accompanied by trumpets, cymbals, and other instruments, they raised their voices in praise to the Lord and sang: "He is good; his love endures forever." Then the temple of the Lord was filled with a cloud,"
8. Colossians 2:6-7
"So then, just as you received Christ Jesus as Lord, continue to live your lives in him, rooted and built up in him, strengthened in the faith as you were taught, and overflowing with thankfulness."
9. Psalm 92:1
"It is good to give thanks to the Lord, to sing praises to your name, O Most High;"
10. Ephesians 5:20
"always giving thanks to God the Father for everything, in the name of our Lord Jesus Christ."
11. Philippians 4:6-7
"Do not be anxious about anything, but in every situation, by prayer and petition, with thanksgiving, present your requests to God. And the peace of God, which transcends all understanding, will guard your hearts and your minds in Christ Jesus."
12. 1 Timothy 4:4-5
"For everything God created is good, and nothing is to be rejected if it is received with thanksgiving, because it is consecrated by the word of God and prayer."
13. Hebrews 12:28
"Therefore, since we are receiving a kingdom that cannot be shaken, let us be thankful, and so worship God acceptably with reverence and awe,"
14. Psalm 105:1
"Give thanks to the Lord, call on his name; make known among the nations what he has done."
15. Isaiah 12:4-5
"In that day you will say: "Give thanks to the Lord, call on his name; make known among the nations what he has done, and proclaim that his name is exalted. Sing to the Lord, for he has done glorious things; let this be known to all the world."
16. 1 Chronicles 29:13
"Now, our God, we give you thanks and praise your glorious name."
17. Psalm 75:1
"We thank you, O God! We give thanks because you are near. People everywhere tell of your wonderful deeds."
18. Hebrews 13:15
"Through Jesus, therefore, let us continually offer to God a sacrifice of praise—the fruit of lips that openly profess his name."
19. Psalm 95:2-3
"Let us come before him with thanksgiving and extol him with music and song. For the Lord is the great God, the great King above all gods."
20. Philemon 1:4
"I always thank my God as I remember you in my prayers,"
21. John 6:11
"Jesus then took the loaves, gave thanks, and distributed to those who were seated as much as they wanted. He did the same with the fish."
22. Colossians 4:2
"Devote yourselves to prayer, being watchful and thankful."
23. Luke 17:11-19
"Now on his way to Jerusalem, Jesus traveled along the border between Samaria and Galilee. As he was going into a village, ten lepers met him. They stood at a distance and called out in a loud voice, "Jesus, Master, have pity on us!"

When he saw them, he said, "Go, show yourselves to the priests." And as they went, they were cleansed of their leprosy. One of them, when he saw he was healed, came back to Jesus, shouting, "Praise God," and fell face down at his feet, giving him thanks. Jesus asked, "Were not all ten cleansed? Where are the other nine? Has no one returned to give praise to God except this foreigner?" Then he said to him, "Stand up and go. Your faith has healed you."
24. Acts 24:3
"In every way and everywhere we accept this with all gratitude."
25. 1 Peter 1:3-5
"Praise be to the God and Father of our Lord Jesus Christ! In his great mercy he has given us new birth into a living hope through the resurrection of Jesus Christ from the dead, and into an inheritance that can never perish, spoil or fade. This inheritance is kept in heaven for you, who through faith are shielded by God's power until the coming of the salvation that is ready to be revealed in the last time."
26. Revelation 11:17
"We give thanks to you, Lord God Almighty, the One who is and who was, because you have taken your great power and have begun to reign."
27. 1 Corinthians 1:4
"I always thank my God for you and for the gracious gifts he has given you, now that you belong to Christ Jesus."
28. Colossians 3:15-17
"And let the peace of Christ rule in your hearts, to which indeed you were called in one body. And be thankful. Let the word of Christ dwell in you richly, teaching and admonishing one another in all wisdom, singing psalms and hymns and spiritual songs, with thankfulness in your hearts to God. And whatever you do, in word or deed, do everything in the name of the Lord Jesus, giving thanks to God the Father through him."
29. Psalm 69:30
"I will praise the name of God with a song; I will magnify him with thanksgiving."
30. James 1:17
"Every good and perfect gift is from above, coming down from the Father of the heavenly lights, who does not change like shifting shadows."
Final thoughts on bible verses on thankfulness
The Bible is full of verses about thankfulness, and for a good reason.
Thankfulness is an important part of the Christian life.
It is a way to show our love and appreciation for God, and it is also a way to help us focus on the positive in our lives.
When we are thankful, we are less likely to dwell on the negative things in our lives, and we are more likely to be joyful.
Thankfulness is also a good way to build up our relationship with God.
When we take the time to thank him for all that he has done for us, we acknowledge his goodness and faithfulness.
This can help us to grow closer to him and to trust him more.
So, next time you are feeling down or negative, take a few minutes to focus on thankfulness.
It can make a big difference in your attitude and your relationship with God.
Read more bible verses: